Welcome to the official digital portfolio of accolades and accomplishments of Dr Stathis Kefallonitis
Dr Stathis Kefallonitis FRSA FCIM transforms the way that passenger experience is addressed and perceived. Stathis promotes a deeper understanding of passenger engagement by studying the product environment and pioneering emotional and sensory indications that create value.
Stathis is considered a world-expert on passenger engagement strategies and a transport industry thought-leader. He has a diverse background that ranges from industrial design to brand experience, sensory marketing, consumer neuroscience, and biometrics.
Industry
Dr. Stathis Kefallonitis advises air transport regulators, airlines, and onboard hospitality providers. He sheds new light on how to improve passenger experience by designing emotionally pleasing products and services. Stathis has been working on a number of prestigious projects with (indicative list): the International Air Transport Association (IATA), Airbus, Gategroup and Gategourmet, Delta Air Lines, American Airlines, the Airline Passenger Experience Association (APEX), the International Flight Services Association (IFSA), Amtrak, Passenger Experience Conference, Aircraft Interiors (AIX) EXPO and the World Travel Catering & Onboard Services (WTCE) EXPO. He serves as a board member and an adviser to companies, regulatory bodies, and industry associations such as IFSA, WTCE, and Amtrak among others. 
He is the founder of branding.aero, a consulting agency that focuses on brand engagement and customer-centered experiential approaches that create value.
In The Press
Dr. Stathis Kefallonitis's work is cited and featured in books, journals, popular business publications, and media including the Wall Street Journal, the New York Times, Passenger International (PAX International), IATA events & publications, Onboard Hospitality, and the Airline Passenger Experience (APEX) magazine.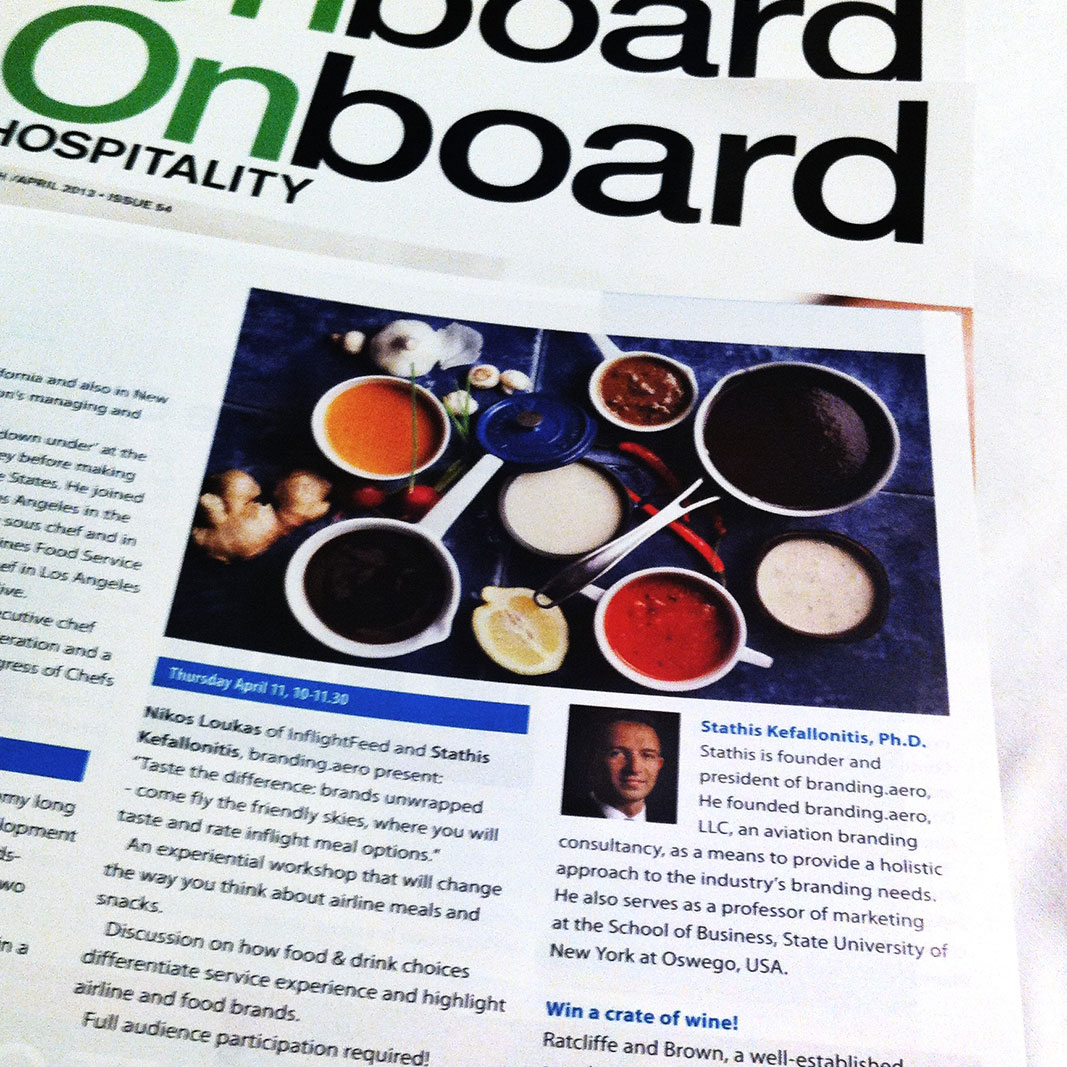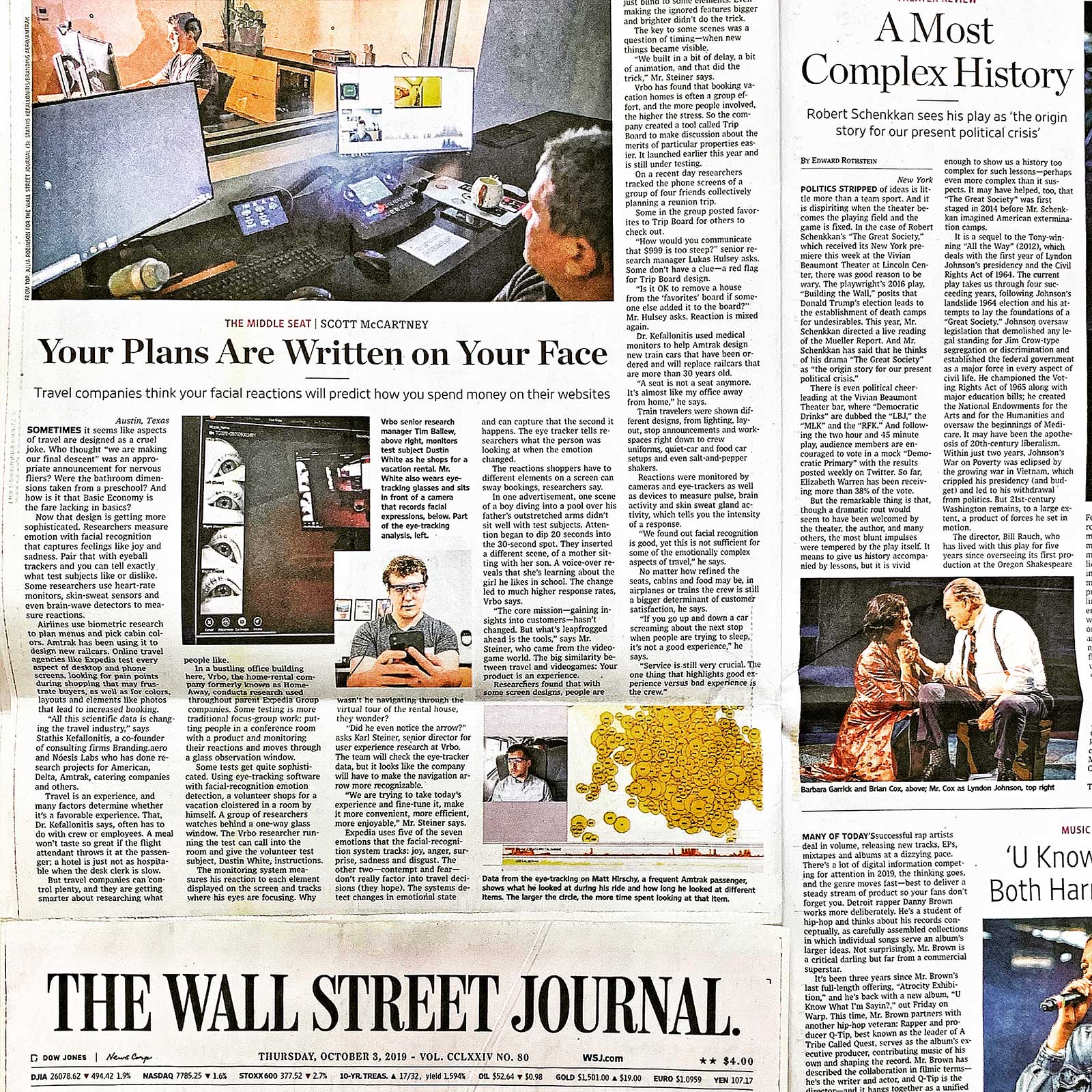 Wall Street Journal article
Airline Passenger Experience article
Education
Dr. Stathis Kefallonitis is a visiting research fellow at the faculty of brain sciences at University College London (UCL) and Goldsmiths – University of London. He has postgraduate degrees from Cornell University, University College London (UCL) & Goldsmiths – University of London.
Stathis was a postdoctoral fellow at the University of the Arts London, UK, and completed research in airline brand experience management. He holds a Ph.D. in marketing from Cranfield University in the United Kingdom. His doctoral research investigated the possibility of extending existing techniques in airline brand marketing and passenger perception to the field of product design. He was the recipient of a graduate bursary and funded by Airbus aircraft manufacturer.
Interesting Facts
Stathis is a global citizen. He spent most of his childhood and school years in Greece, Belgium, and the United Kingdom. He has worked in Hong Kong, the People's Republic of China and Dubai, before the USA 'adopted' him. He is usually found in the air testing inflight experiences, or on the ground speaking and sharing his passion of travel experience with others.
As a baby, he was usually found crawling all the way into the cockpit of aircraft (back in the days when the cockpit door used to be open). This was an indication of the things to follow! 
Dr. Stathis Kefallonitis has also studied at the Royal College of Music in London, UK. He can play the classical guitar and the piano. During his graduate studies, he was usually found at the University of London Union (ULU) swimming pool. Being a member of the University of London's swimming team, he represented the University in a number of national and international events. As a student, he spent a few summers at the École Supérieure de Cuisine Française and is an avid fan of Greek, French, and Benelux cuisine.
Stathis speaks English (obviously), Greek, basic French, and Italian. He can speak so-called dead-languages, ancient Greek and Latin.
Client Showcase